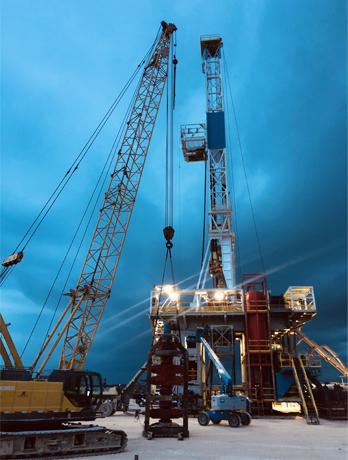 Welcome
J&M Premier Services Inc. was originally founded in the late 1990's as a small hot shot company. The previous owners developed a long history of providing quality oilfield services in East Texas. Paul Woodard, Jr. and Cliff Johnson, Jr. purchased the company in April 2010 and immediately put in place plans to grow its business in a rapid, but more importantly, careful and strategic manner. Their objective: provide the most reliable oilfield equipment transportation services in the Oil and Gas industry. To achieve that goal, they:
Expanded the services we provide in order to meet the changing needs of our customers.
In addition to our yard in Palestine, Texas, established a yard in South Texas to cover the Eagle Ford Shale play.
Built and diversified our equipment inventory, and employed full-time individuals with expertise in OSHA safety guidelines and DOT transportation regulations.
Along with Paul's wife Melissa, a CPA and the company's CFO, recognized the need for better internal controls and governance, which resulted in the design and utilization of a proprietary data and information electronic system unique in the industry.
Engaged outside professional consultants and expanded insurance coverage.
Sought out and hired additional employees , always careful to pre-screen candidates, require the necessary certifications or licenses, monitor their work and continuously support them with relevant training programs, all within an atmosphere of fairness and genuine concern for the employees' welfare.
As a result of the success borne out of their initial strategic planning, and based on their business and professional experience, Paul, Cliff and Melissa know that going forward in this industry at least four things, at a minimum, will always be required in order to stay competitive: highly qualified and well-trained employees, good equipment maintained by full-time shop personnel working in-house, services that put the customer first, and a genuine dedication to safety and compliance with rules and regulations.
Those four requirements form the corners of our company's business foundation.
Over the years, the company has become recognized as one of the "premier" service providers when it comes to hauling oilfield equipment.
We welcome you to our website, and invite you to get to know us a little better.